When lifting, follow these simple suggestions:

1. When lifting from the floor, keep your back straight and lift with the legs. Do not bend over at the waist and lift with the muscles of the low back. Your body is more easily injured in this position.
2. Keep the object being lifted close to your body.
3. Keep your elbows flexed.
4. Keep your head up and your neck straight as you lift.

When working with a computer mouse, try the following: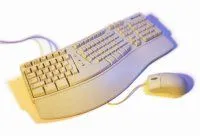 1. Don't move the mouse with just your wrist. Use your entire arm and shoulder.
2. Don't rest your arm on the edge of the desk while manipulating the mouse.
3. Hold the mouse loosely.
4. Keep your wrist relaxed. Don't hold it up or down; instead, hold it in a neutral (straight) position
5. Move away from the mouse several times per hour and move your wrists, arms, and shoulders around.
---
Ergonomic desk set-up specifics