At Rulli Chiropractic Clinic, we take great pride in providing the finest chiropractic wellness care to our patients. Below is a sampling of the different chiropractic services we offer in our office.
---

Chiropractic Care
Chiropractic supports the concept that restoring and maintaining proper functioning of the musculoskeletal and nervous systems can provide for better health. Our adjustment methods are even safer, more comfortable and more effective than ever before. As a Doctor of Chiropractic, Dr.Rulli has years of training and experience in spinal adjustment.
---

Corrective Exercises
We teach our patients special exercises designed just for them to help strengthen and correct their own unique problem. These exercises can be performed in the comfort of your own home and can improve the effectiveness of your spinal correction by as much as 30-40%. In addition to skeletal misalignment, muscles and connective tissues can be out of place or strained by improper alignment and use. Specific exercises and stretches can help your body stay in balance and in health.
---
Spinal Decompression Therapy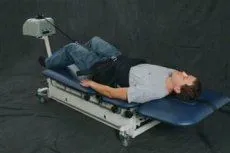 Spinal Decompression Therapy reduces pressure inside the discs of the spine and facilitates the transfer of nutrients and oxygen back into the disc. This safe, nonsurgical treatment is used to help relieve pain associated with bulging and herniated discs, sciatica and degenerative disc disease. This therapy is not right for everyone but could be a helpful, new option for those suffering from chronic or radiating pain. Please call us to learn more about Spinal Decompression Therapy.
---
Acupuncture
Acupuncture is an ancient Chinese therapy that has been used for approximately five thousand years. It is based on the premise that a blockage or imbalance ofthe flow of energy or chi at any point on a meridian may result in illness. Acupuncture is usually performed by inserting very thin needles at certain points on the body to restore normal energy flow along the meridians. For more information, please call our office.
---

Spinal & Postural Screenings
Posture and spinal screenings can reveal important health information and unlock the door to improved health and well-being. Dr. Rulli can provide screenings at community events, health fairs and places of employment. Contact us today to arrange a screening at your event or workplace.
---
Physiotherapy
To complement and enhance the healing effects of Dr. Rulli's specific chiropractic adjustment treatment, we also provide the following physiological therapeutic procedures:
Interferential electrical muscle stimulation
Mechanical traction
Cryotherapy
Moist heat therapy
Dry needling
Ultrasound
---
Massage Therapy

We offer therapeutic massage for our patients. All of our therapists are certified by the Virginia Board of Nursing. For more information, please see our Massage Therapy page.