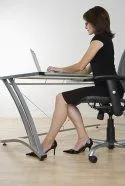 Importance of Sitting Posture
Your posture really does matter. How you sit, stand, sleep and lift is important in preventing injuries and pain. Correct posture reduces the stress on the ligaments holding the spinal joints together, minimizing the likelihood of injury. Sitting and standing tall allows muscles to work more efficiently, permitting the body to use less energy and preventing muscle fatigue. And let's not forget, it also helps prevent muscle strain, overuse disorders, and even back and muscular pain.

How do I sit properly?
Keep your feet on the floor or on a footrest, if they don't reach the floor.

Don't cross your legs. Your ankles should be in front of your knees.

Keep a small gap between the back of your knees and the front of your seat.

Your knees should be at or below the level of your hips.

Adjust the backrest of your chair to support your low- and mid-back or use a back support.

Relax your shoulders and keep your forearms parallel to the ground.

Avoid sitting in the same position for long periods of time.